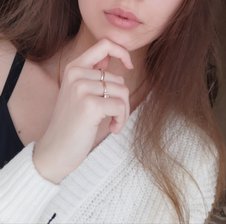 Passordbeskyttede gallerier










Viktige detaljer for
-Muffin-
| | |
| --- | --- |
| Kjønn | Kvinne |
| Interessert i | Menn |
| Alder | 22 |
| Høyde | 175 cm - 185 cm (5'10" - 6') |
| Vekt | 55 - 60 kg (120 - 140 lbs) |
| Hår | Brunett |
| Øyne | Blå |
| Etnisitet | Hvit/Kaukasisk |
| Språk | Russisk, Engelsk |
| Kjønnshår | Barbert |
| Byste | Mellomstore |
| Rumpe | Mellomstore |
Sense of humor, kindness.
The ability to relax, envelop in warmth and dissolve together in pleasure, having lost the sense of time and space.
Delicious muffin. A joy to the ears and eyes.
Hva som absolutt ikke tenner meg
People who ask for a token-free show ; stupidity, toxicity, importunity, rudeness.
Hva jeg gjør på webkamera:
Amatørklipp av -Muffin-

250 polletter
9:07

250 polletter
6:19

200 polletter
5:37

400 polletter
7:54

250 polletter
5:50

500 polletter
12:54

350 polletter
4:43

300 polletter
4:11

66 polletter
1:02

50 polletter
1:16

50 polletter
1:03

66 polletter
1:05

66 polletter
1:02

50 polletter
1:13

100 polletter
0:49

100 polletter
1:17

50 polletter
1:03
1

Treating myself with lovely gifts
Girls love to treat themselves. Spa, lingerie, jewelry... Let them choose by themselves and they will grate you doubly after ;)
Les mer
2

I dream of having a big and lovely crew of my cool loyal friends and fans! Want to make me smile or make a compliment? Just do it Or make your contribution to improve my camscore. It's easy and cheap - 1-2 tokens in public chat will do this for me.
Les mer
3

Improve my professional skills
To improve my professional skills Yes! I love my job here :) And I want to seduce you more and more sophisticated and do absolutely stunning shows.I'm learning everyday. Share what you like or not here, help me to discover something new.
Les mer
4

Improve my software and techniqal equipment
I want to be able to upgrade all the equipment that brings my streams to life in order to give you the better quality and stronger pleasure ;)
Les mer