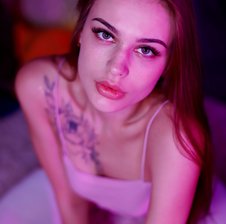 Viktige detaljer for FlorenceFloyd
| | |
| --- | --- |
| Kjønn | Kvinne |
| Seksuell preferanse | Hetero |
| Alder | 21 |
| Høyde | 150 cm - 160 cm [5' - 5'3"] |
| Vekt | 40 - 45 kg (90 - 100 lbs) |
| Hår | Brunett |
| Øyne | Grønn |
| Etnisitet | Hvit/Kaukasisk |
| Språk | Engelsk, Russisk |
| Kjønnshår | Barbert |
| Byste | Mellomstore |
| Rumpe | Mellomstore |
Hva som gjør meg kåt
It excites me very much when I feel the vibration emanating from my toys. I like it when you write me pleasant words, from them my heart feels the warmth and care that I convey to you! I am excited by men who correctly posing their questions, culturally talk to me and do not try to give up their opinion - for me this is an ideal. This is only a small part of what I can get excited from. I will not disclose all the cards, so I propose to come to me on the stream and check all my weaknesses from which I start to getting horny .....
Om meg
Hello everyone, my dear subscribers! My name is Christina, I am 19 years old! I am very glad to give you positive emotions from watching my stream. I'll tell you a little about myself. I am a brown-haired woman with green eyes, I have a small height - only 158 centimeters, I weigh 44 kilograms not thin and not fat, I like to flirt with my spectators and communicate, answering your questions. Do not ask me to do something for free, please. I really love my hobby and I hope that you will help me achieve my goal - I want to be a top 10 models on a Bonga. Thank you very much for subscribing to me and watching my streams.
Hva som absolutt ikke tenner meg
I am repelled by any manifestation of rudeness towards me, I will not suffer insults in my address, as well as towards my spectators who watch me. I do not like when someone ask me to do something for free or try to impose their opinion and force me to do anything. I will not suffer humiliation, insults and threats addressed to me. For me, these are absolutely unacceptable things that I will never accept. Please be polite, observe moral and ethical principles, because I always behave respectfully in relation to my members. In my stream, I do not want to see any kind of discrimination and racism in relation to any person.Thank you!
Hva jeg gjør på webkamera
Arbeidstid for FlorenceFloyd
Amatørklipp av FlorenceFloyd
Sweet girl grimaces for her knights
1:49
Visninger

15
KJØP 50 polletter